Third year of Hudson River dredging deemed a success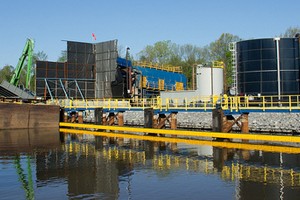 Dredging for contaminants in the Hudson River finishes a successful season this week, as operators exceeded goals for pollutant removal while keeping turbidity levels in check, according to the Environmental Protection Agency.
This year dredgers extracted more than 350,000 cubic yards of contaminated sediment. It's the third year of dredging this area, and Judith A. Enck, EPA regional administrator, estimates crews are half done.
EPA required monitoring of turbidity and concentrations of polychlorinated biphenyls. Monitoring stations on site and down stream showed dredgers kept PCBs and sediment suspension within EPA mandates.
The EPA also required monitoring for noise and air pollution. Operational changes were made to reduce dust from dredged materials after monitoring showed adverse impacts on air quality.
The cleanup effort is a result of pollution from two General Electric plants that dumped approximately 1.3 million pounds of PCBs into the Hudson River at Fort Edward, N.Y. and Hudson Falls, N.Y.
Image: GE dredging on the Hudson River (Credit: Peretz Partensky, via Flickr)