Three Rivers Quest study finds water quality concerns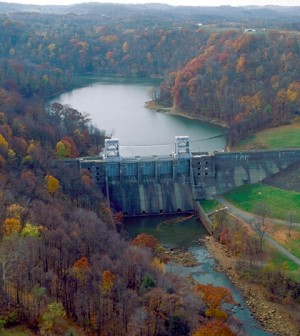 An ongoing study of more than 30,000 square miles of the Upper Ohio River Basin has shown that water quality in the region has been contaminated by various sources, the Valley News Dispatch has reported.
Researchers have been monitoring 54 locations along the Allegheny, Monongahela and Ohio rivers to test for dissolved oxygen, temperature, acidity, conductivity, fluoride, bromides, sulfates, nitrates, phosphates and metals. The research indicates that the rivers have been sullied by acid-mine drainage, sewage spills, fertilizers and road salt
The study is part of the Three Rivers Quest project, the goal of which is to locate the types of pollution that affect the region's drinking water and aquatic life to establish a barometer for future water quality.
Image: Loyalhanna River (Credit: U.S. Army Corps of Engineers, via Wikimedia Commons)