Toledo water crisis hastens Lake Erie water quality buoy near water intake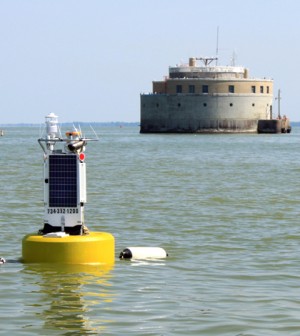 The new water quality buoy floating near Toledo's water intake crib in Lake Erie (credit: Ed Verhamme)
The Toledo water crisis that shut off the water supply to 500,000 people also fast-tracked a water quality data buoy project near the city's water intake crib in Lake Erie.
The city has been working with LimnoTech, the water engineering firm that designed and deployed the platform, for a few months on a sensor system that could better inform treatment plant managers of water quality conditions near the intake, according to Ed Verhamme, project engineer with LimnoTech.
When residents were told on Aug. 2 not to drink or bathe in the water from their taps because it carried dangerous levels of a toxin produced by a blue-green algae blooming in Lake Erie, the planning process sped up.
"The water crisis made them walk the contract down to the mayor's office the next day," Verhamme said.
By Thursday, Aug. 7, the buoy was in the water publicly reporting on wind, waves, currents and water quality from a single location in real time. It's one of the first buoys in Lake Erie to make that claim.
Perhaps the most important instrument onboard is the YSI EXO total algae sensor that measures both chlorophyll-a and phycocyanin, the pigment in the toxin-producing blue-green algae. Live data from the sensor will give plant operators an idea of algae levels at the intake before the water gets to the plant.
"They would eventually see those water quality trends, but the time from when the water enters the intake crib until they measure it in the treatment plant can be up to 24 hours lag time," Verhamme said. "This buoy provides them with, 'What's the quality of the water coming into our intake right now?'"
In addition to the algae measurements, the buoy's EXO2 is collecting data on water temperature, conductivity, pH, oxidation-reduction potential and turbidity. A Nortek AWAC acoustic instrument mounted on the lake bed measures wave heights and water currents, making it the only station reporting those variables in real time from the lake's Western Basin. A camera mounted on the buoy delivers 5-megapixel photos and 720p video clips every hour.
"The webcam doesn't give you data you can plot," Verhamme said. "It just gives you a general feel of conditions that helps validate what the instruments are measuring."
The weather and water data are available on a web portal maintained by Michigan Tech Great Lakes Research Center and Michigan Tech Research Institute. The data are also shared with the NOAA National Data Buoy Center and National Weather Service and are available to help improve weather forecasts in the region. Researchers working on predicting the movement of harmful algal blooms will also benefit from data from a new location in the Western Basin.
System Description
NexSens CB-950 Data Buoy
Lufft WS 501: wind speed, direction, gust, air temperature, relative humidity, dew point, barometric pressure, solar radiation. Deployed 6 feet above the water.
Nortek AWAC 1MHz: water speed and direction at 1-meter increments, wave height, period, direction.  Deployed on the bottom looking up.
YSI EXO2: water temperature, conductivity, pH, ORP, turbidity, total algae (blue-green algae and chlorophyll).  Deployed 2 feet below the surface
Campbell CC5MPX: video camera to capture 5 MP images and 720p clips
Top image: The new water quality buoy floating near Toledo's water intake crib in Lake Erie (Credit: Ed Verhamme)