Tritech upgrades StarFish Seabed Imaging Systems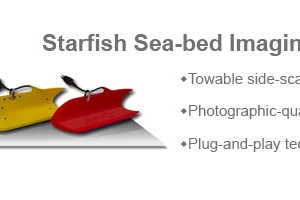 Tritech International has announced several upgrades and new accessories to its line of StarFish Seabed Imaging Systems. The changes are based on user feedback and aim to enhance in-field dependability and ease of use.
Several improvements were made to the top box electronics module that is kept boat-side and acts as the mediator between the sonar unit and computer. The enhancements include increased resistance to environmental elements and electrical interference.
The upgrades and offerings include:
Improved noise immunity: There were some reports that when the top box's USB cable was near sources of electrical noise and interference (such as generators or outboard motors), the connection would fail, requiring a power cycle of the top box to regain functionality. With the upgraded design, the USB link is far less susceptible to failure from such external sources.
Thermal reliability: The top box has been improved to offer greater environmental resistance. It now functions with greater stability in higher humidity and temperature conditions.
Operational reliability: The internal reset and configuration circuitry has been re‐engineered to allow the sonar to recover from events that caused previous generations to crash and require a reboot.
Sonar connector: Following reports that the 'D‐Type' connectors on the top box and towing cables suffer from corrosion and are difficult to connect in poor weather conditions, Tritech has upgraded the top-box design to support bulkhead-mounted, inline, six‐way 'Souriau UTS' connectors. These highly corrosion-resistant connectors require only a simple plug-and-twist action to secure. Tow cables are now available using the new connector type, as well as adapters that allow interfacing a towfish with a 'Souriau' connector on the end of its cable to a legacy 'D-Type' connector top-box and vice versa.
50-meter cable reel: The StarFish 450 series now ship with a 20-meter towing cable as standard. However, with the introduction of the 425F and 990F sonar heads, the inline sub‐sea 'Impulse' connector allows the towing cable to be interchanged with a 50-meter length. This extended cable comes on a rugged and compact reel that provides a quick and convenient method of storing the cable without risking twisting that could cause the sonar to tow at an angle. This longer cable will not cause the StarFish to go deeper but farther behind the boat. It should only be used when necessary, however, as it can cause slight decrease in range capability of the sonar.
To learn more about these upgrades contact a Fondriest Environmental product specialist at 888.426.2151 or customercare@fondriest.com.