Troubled oil facility is source of leak on Colo. creek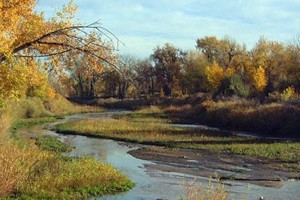 A leaky pipe reported last summer near an oil refinery in Colorado may be the source of an oily substance discovered recently in a creek that flows into the South Platte River, a source of Denver's drinking water.Cleanup crews on the creek built sandbag dams and dug trenches. Around 30 to 50 gallons of the substance have been recovered so far, but the overall volume of the leak hasn't been determined.
Calgary-based Suncor Energy Inc. confirmed that its facility is the source of the substance but hasn't pinpointed the source. Colorado state health officials last year discovered contamination on the wrong side of an underground protective barrier between the refinery and the creek.
Read more at CBS News.
Image Credit: Southwest Photo Gallery