Tsunami debris could land on Hawaii's shores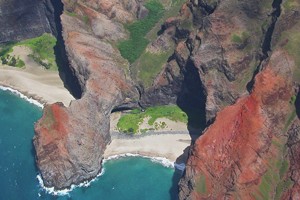 Effects from the earthquake that devastated Japan in March are still spreading in the form of ocean debris. NOAA computer models show that debris could wash up in the Northwestern Hawaiian Islands sometime this winter.
After the tsunami, chunks of buildings, pieces of boats, rubber, metal and other refuse formed debris fields in the Pacific Ocean that could be seen from satellite images. The debris fields have now broken up, and researchers are now trying to predict where and what is still out there. NOAA is working with the U.S. Environmental Protection Agency and the U.S. Fish and Wildlife Service to collect data. If the debris were to come ashore, it could affect coral reefs and interfere with navigation near the Hawaiian coast. Ships and individuals that spot debris at sea should contact DisasterDebris@noaa.gov for shoreline monitoring guides.
Read more at oceanservice.noaa.gov
Image credit: www.fotopedia.com