U.S. Department of Interior releases draft fracking regulations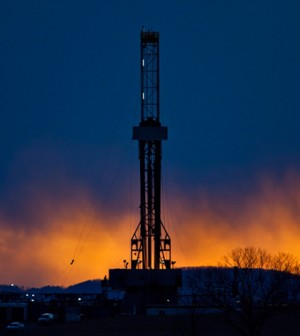 Image: Hydraulic fracturing drill rig in Pennsylvania (Credit: Environmental Protection Agency)
The U.S. Department of Interior has released a proposal to establish national regulations for hydraulic fracturing, or fracking, according to Bloomberg. This is the second such proposal, with the first being updated following extensive public feedback.
The new proposed regulations look to provide disclosure to the public of chemicals used in hydraulic fracturing on public and Indian land, strengthen regulations related to well integrity and address issues related to flowback water.
More than 177,000 public comments informed the updated proposal. Approximately 90 percent of the wells drilled on Federal and Indian lands use the fracking method, but current regulations are outdated by 30 years and do not address contemporary issues associated with the practice.
Image: Hydraulic fracturing drill rig in Pennsylvania (Credit: Environmental Protection Agency)