U. Washington researchers back in Arctic following government shutdown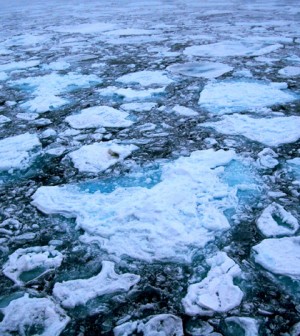 Arctic ice (Credit: Pink floyd88 a, via Wikimedia Commons)
Researchers at the University of Washington are back at work monitoring conditions in the Arctic following the end of the federal government shutdown, according to a release. Several research missions are back on track.
One project using the National Oceanic and Atmospheric Administration's WP-3D Orion research craft came back online in time. It's studying heat radiation in the Arctic and its effects on weather. University of Washington researchers are also helping NASA develop laser maps of melting glaciers in Greenland.
The researchers are glad that the projects weren't completely derailed by the shutdown. Still, there have been some effects, including less daylight for flights and lower temperatures as a result of research missions later in the winter season.
Image: Melting Arctic ice (Credit: Wikimedia Commons)