UC San Diego develops portable, personal air sensors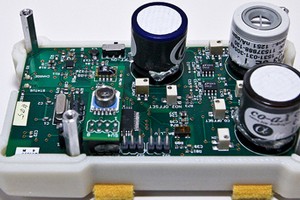 Scientists at the University of California San Diego have developed personal pollution sensors allowing users to monitor the air around them using smart phones, according to a release from the school. The sensors are not attached directly to the phones, but interface with them wirelessly.
Each unit, called a CitiSense system, can read levels of ozone, nitrogen dioxide and carbon monoxide, which are some of the most common pollutants emitted by cars and trucks. By tracking air quality in real time, users can modify their routines and avoid polluted air. Cyclists or bike commuters appeared to be particularly prone to experiencing elevated pollution levels while riding near roadways.
By using anonymous data from multiple CitiSense systems, the UC San Diego team could get a clearer view of a region's air quality. The sensors' size and multi-user potential could provide more data than standard air monitoring deployments.
The cost for making each sensor is around $1,000 and the researchers have brainstormed plans for cheaper mass production. The CitiSense program is being funded by a $1.5 million grant from the National Science Foundation.
Image: The CitiSense circuit board (Credit: UC Davis Jacobs School of Engineering)