UK study to monitor effects of storms on estuary nutrient pollution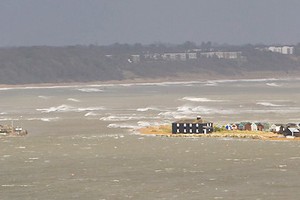 A 12-month study of nutrient pollution in a British estuary and two of its tributary rivers will rely on state-of-the-art monitoring technology, according to a release from the UK's National Oceanography Centre.
The study will give scientists a better understanding of how nutrients move from rivers to estuaries and coasts, and the effects of storms on stirring up nutrients from sediments. The work, funded by a 1 million pound grant from the National Environmental Research Council, will look at the Hampshire Avon and Stour rivers and the Christchurch Harbor estuary.
The study will be the first in the UK to use weather prediction technology in concert with water quality sensors to capture high-resolution data on the effects of storms.
Image: A windy day on Christchurch Harbor, which will be the subject of the study on the effects of storms on nutrient distribution (Credit: Peter Facey, via Wikimedia Commons)