UN reports on effect of climate change and urbanization on natural disasters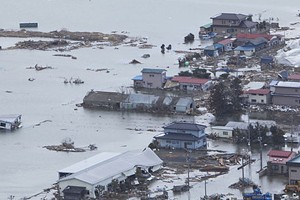 A report published by the United Nations Environment Programme says that devastating natural disasters are occurring with greater intensity. The study examines the effect of climate change and urbanization and questions their roles in environmental emergencies.
The report notes that the two megatrends are posing great challenges for emergency responders and overwhelming resources on the national and local level. It makes recommendations to address the challenges: utilize U.N. resources to prepare for the disasters, increase forecasting and info-sharing capabilities, and improve accident scenarios in national contingency planning.
Its final recommendation is to monitor environmental impacts in the aftermath of emergencies, as relief efforts can leave behind pollution and waste.
Image: Aerial view of Minato, Japan after 9.0 magnitude earthquake (Credit: U.S. Navy, via Wikimedia Commons)