U. of Florida develops tiny, low-cost, hurricane monitoring drones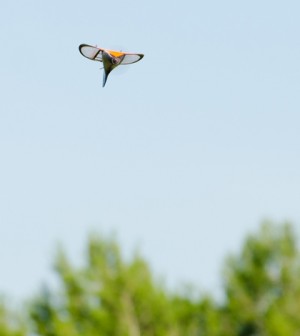 University of Florida researchers are pioneering new, low-cost monitoring drones that hitch rides on ocean currents and hurricane winds to track storm conditions, according to a University of Florida news release.
Kamran Mohseni, an engineering professor at the University of Florida behind the program, said the strategy for the drones is to send an barrage of them at a hurricane.  Instead of creating one high-cost aircraft or submersible, many low-cost drones collect data to give a more representative spread of hurricane conditions.
The drones can be remotely controlled from hundreds of miles away or operate autonomously.
Researchers with the project hope a combination of air- and water-based monitoring will enable highly representative data for a low cost. Airborne drones cost about $250. A cost was not listed for the submersibles.
Mohseni hopes to deploy the drones into a hurricane within a few years.
Image: Hurricane monitoring drone developed at the University of Florida (Credit: Eric Zamora/University of Florida)