University of Michigan Water Center awards $570K in grants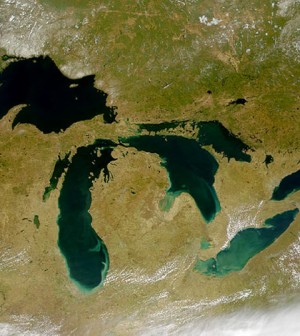 Great Lakes from space (Credit: SeaWiFS Project, NASA/Goddard Space Flight Center, and ORBIMAGE.)
The University of Michigan Water Center, which launched in October 2012, has awarded $570,000 in research grants, according to a release. Each grant is for two years and the awards  top out at $50,000.
Multiple researchers and universities across the Great Lakes received grants. Fifty-four proposals were submitted and some of the winners are set to research fish communities, harmful algal blooms and response plans to oil spills, among other explorations.
Environmental research in the Great Lakes is important, as 20 percent of the world's surface freshwater supply is housed in the landlocked pools. The region has around 10,000 miles of coastline and helps support tourism activities that pump nearly $4 billion annually into local economies.
Image: Satellite image of the Great Lakes from space (Credit: SeaWiFS Project, NASA/Goddard Space Flight Center, and ORBIMAGE.)