Upper Susitna River evaluated for hydroelectric dam project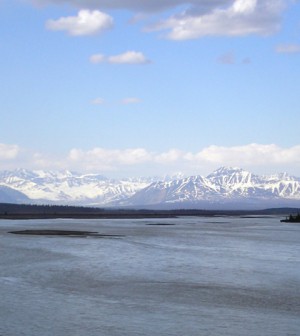 The Susitna River from Denali Highway (Credit: jkbrooks85, via Wikimedia Commons)
Alaska's Susitna River is being comprehensively studied to evaluate the possible impacts of a hydroelectric dam in the river, according to the Juneau Empire.
The Alaska Energy Authority had 200 researchers working on field studies to analyze water quality and wildlife on the river.  A total of 58 studies were approved by the Federal Energy Regulatory Commission, although not all were conducted.
The river is being studied from the Upper Susitna down to its delta in the Gulf of Alaska's Cook Inlet.
Wildlife studies have been conducted by the Alaska Department of Fish and Game. They are focused on moose, caribou, wolverines and other land mammals.  Fishery health is gauged through fish stomach contents and stable isotope analysis of water.
Image: The Susitna River from Denali Highway (Credit: jkbrooks85, via Wikimedia Commons)