US Research Flights Gauge Greenhouse Gases In Atmosphere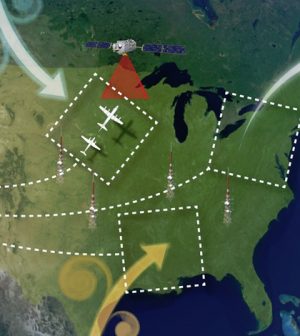 Penn State University scientists are collecting data on greenhouse gas concentrations in three regional areas of the U.S. to understand how weather impacts the transport of those gases. (Credit: NASA)
Tracking greenhouse gases in the atmosphere can be tough. There are satellites that do it, but scientists still need direct measurements to make sure that the data they're looking at are valid.
Enter a recent effort involving Penn State University researchers who are embarking on a series of research flights around the U.S. to dissect the dynamics of carbon dioxide and methane floating around. One of the goals of the work is to pinpoint where the gases are originating, as well as to determine conditions that lead to an area serving as a sink or source.
The team surveyed the mid-Atlantic region in July. Currently, throughout early August, the airborne investigators plan to survey the Midwest. From there, their next destination is Louisiana, where they will begin to analyze air quality over the Southeast. Flights over each region span a period of two weeks.
Tools used in the effort include C-130H and B-200 research planes, both equipped with numerous air quality sensors. These can track concentrations of carbon dioxide, methane, ozone, carbon monoxide and other gases. Additional onboard tech can measure aspects of the weather, such as temperature, wind velocity and pressure in both stormy and fair conditions — the idea there is to assess how weather systems transport greenhouse gases.
But the methane and carbon dioxide are the big two gases investigators are focused on. The latter is known as the major contributor to atmospheric warming, while methane is a little more mysterious. While its levels in the atmosphere are at the highest they've been in 800,000 years, concentrations tapered off a bit in the 2000s and scientists still don't have enough data to answer why.
The flights are coinciding with passes of NASA's Carbon Dioxide Observatory, which has been taking measurements of the gas since its launch in 2014. By taking measurements while flying under the satellite's orbit, the team will be able compare their results with the satellite's to evaluate accuracy of the remote data.
Top image: Penn State University scientists are collecting data on greenhouse gas concentrations in three regional areas of the U.S. to understand how weather impacts the transport of those gases. (Credit: NASA)