USGS develops interactive flood monitoring map for Atlanta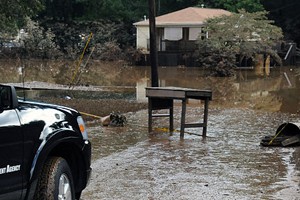 The U.S. Geological Survey has announced the debut of an interactive tool which will keep Atlanta, Ga. residents informed on flood risks, according to a press release from the agency.
Scientists from the USGS' Georgia Water Science Center developed the tool, called a flood inundation map. The idea was inspired by the 2009 flooding of the Sweetwater Creek in Atlanta, which killed 10 people and caused $250,000,000 worth of damage.
The goal of the new tool is to keep emergency personnel informed on potential risks. It should also help planning flood response and evacuation strategies.
The maps are based on real-time data from USGS stream gauging network. The flood software is modeled from FEMA Hazardous United States (Hazus) protocol. The map is interactive and includes a link to a streaming web cam which monitors water in the Sweetwater Creek.
The USGS is working with FEMA, the National Weather Service and the U.S. Army Corps of Engineers to develop flood inundation mapping for more areas with high risk for dangerous flooding.
Image: Georgia Emergency Management Agency (GEMA) and FEMA along Sweetwater Creek to determine potential extent of damage to homes by 2009 flooding (Credit: FEMA Photo Library via Wikimedia Commons)