USGS predicts some San Francisco Bay marshes will be underwater by 2100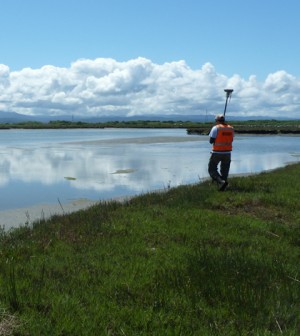 USGS researcher surveying San Francisco Bay marsh topography (Credit: Kevin Buffington/USGS)
Some San Francisco Bay marshes would be underwater by 2100, assuming sea levels there rise by four feet, according to a new U.S. Geological Survey study.
Surveys of 12 marshes in the area were coupled with modeling of a four-foot sea level rise.  Results showed that 95 percent of the marshlands, which make up 12 percent of San Francisco Bay marshes, will be underwater by 2100.
An RTK GPS was used to measure elevation and to map the layout of marsh vegetation.
Many marshes in the area are boxed-in by human settlement preventing wildlife from moving to higher ground.
Restoration and modification of existing marshes may be a way to reduce the likelihood of flooding.
Image: A USGS researcher surveying San Francisco Bay marsh topography using a RTK GPS measuring unit (Credit: Kevin Buffington/USGS)