USGS publishes Sandy storm tide study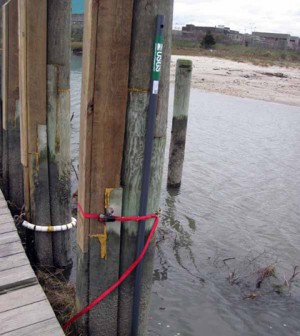 Storm tides reached almost 20 feet high at one location on the New Jersey coast during Hurricane Sandy, according to a newly released U.S. Geological Survey study.
The study details a compilation of data collected by storm tide sensors, water level sensors and barometric pressure sensors lining the East Coast from Maine to North Carolina.  A total of 162 water level and wave height sensors were deployed in 147 locations just before the storm.
Highest tide levels were in hard-hit New York and New Jersey.  Storm tide sensors recorded peak tide elevations greater than 10 feet tall in eight of 16 monitoring locations in New Jersey and 21 of 47 monitoring locations in New York.  Four sensors in Connecticut also recorded tide levels greater than 10 feet.
Check out the USGS Storm Tide Mapper for an interactive map detailing water levels.
Image: A storm tide sensor deployed by the USGS prior to Hurricane Sandy (Credit: USGS)