USGS study shows nitrate historically on rise in Mississippi River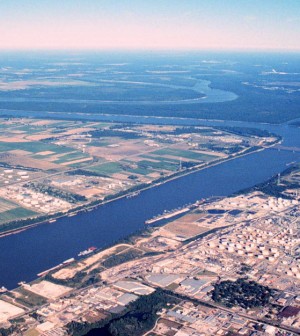 An aerial photo of the Mississippi where it flows through Baton Rouge (Credit: USGS)
A new U.S. Geological survey shows nitrate levels have been consistently increasing in the Mississippi and Missouri Rivers, according to a USGS release.
Data from eight USGS monitoring stations collecting nitrate data from 1980 to 2010 were analyzed to determine the trends.
The only decrease observed in the Mississippi River Basin was in the Illinois River, where nitrate levels decreased by 21 percent from 2000 to 2010.
Nitrate levels in the Mississippi increased by 12 percent between 2000 and 2010.
Nancy Stoner, USGS assistant administrator for water, said more monitoring is necessary to understand the sources of nitrate pollution.
Monitoring shows nitrate concentrations increased during low flows from groundwater entering the basin, which researchers think is the basin's main source of the nutrient.
Image: An aerial photo of the Mississippi where it flows through Baton Rouge (Credit: USGS)