Van Essen Diver Loggers Join Fondriest Product Lineup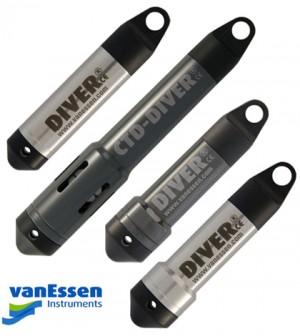 New to Fondriest Environmental's product portfolio are the Van Essen Instruments Diver loggers, which are ideal for monitoring groundwater and surface water in a variety of applications. See below for a short description of each new addition.
Van Essen CTD-Diver Water Level & Conductivity Logger
If you need to monitor groundwater levels and saltwater intrusion, injected wastewater, or contamination from chemical discharges and landfill sites, the CTD-Diver is a good choice. It features a rugged, corrosion-proof ceramic housing and is equipped with a four-electrode conductivity sensor to measure electrical conductivity from 0 to 120 mS/cm. There are two options for measuring conductivity: true or specific conductivity at 25 degrees Celsius. It also tracks pressure and temperature.
Van Essen Cera-Diver Water Level Logger
The ceramic-shelled Cera-Diver is designed specifically for corrosive conditions, such as brackish water and seawater. This reliable and compact logger measures groundwater levels with an accuracy of +/- 0.05 percent full scale. The Cera-Diver is equipped with a memory for 48,000 measurements per parameter.
Van Essen Micro-Diver Water Level Logger
The Micro-Diver is the smallest Diver logger capable of accurately recording groundwater levels and temperature. Sizing up at 88 millimeters (3.46 inches) in length and 18 millimeters (0.71 inches) in diameter, it is designed for monitoring wells or drive-points too small to accommodate larger loggers. In addition to its compact size, the Micro-Diver's memory capacity stores up to 48,000 measurements per parameter, about one measurement every 10 minutes for a year.
Van Essen Mini-Diver Water Level Logger
The Mini-Diver is a reliable instrument for the autonomous measuring and recording of groundwater level and temperature. Its internal memory of 24,000 measurements per parameter provides sufficient capacity to perform nearly one measurement every 10 minutes for six months. With each point, the logger registers date and time, groundwater level and temperature.
Accessories
Along with the Diver loggers, Fondriest offers the full line of accessories like the Baro-Diver Barometric Pressure Logger that compensates for atmospheric pressure changes to ensure accurate water level readings. A Diver-DCX SDI-12 Interface Box with automatic barometric pressure compensation is also available for interfacing loggers with any SDI-12 compatible telemetry system.
Van Essen Instruments also offers a full line of communication accessories like the Diver USB Interface Cable that lets users communicate with a logger connected to a Diver Data Cable and then to a computer or handheld device with Diver-Office installed. But no need to fret if there's no laptop available — users can also download data directly to the Diver-Mate Data Download Unit.
For standard programming, changing settings or uploading data, Van Essen also offers a Diver USB Reading Unit. It can be used in the office or in the field and assists with calibrating the conductivity sensor on the CTD-Diver.