Video shows inside view of NASA cloud hunter mission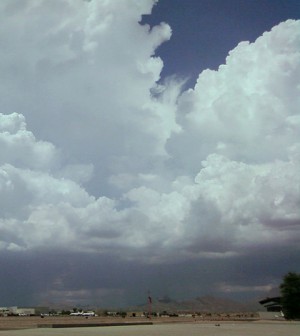 In an effort to better understand the roles of clouds and aerosols in a changing climate, NASA has been making research flights this summer, according to Climate Desk. The space agency allowed video footage to be taken during one of the flights.
The video details the mission that involves making multiple flyovers, each at different altitudes, to quantify carbon emissions and study cloud formation and aerosols. So much data are collected during one flight, a scientist says, that up to 60 researchers can work for four years to process it all.
Tracking clouds is difficult because they move fast and are hard to model. Depending on concentration and altitude, clouds can cool or heat the planet.
Image: Monsoon clouds in Arizona (Credit: Wikimedia Commons)