Virginia groups' Family Stream Day teaches water quality monitoring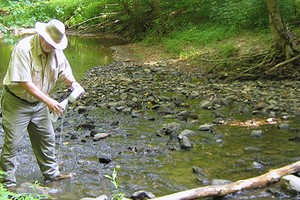 This weekend, Loudoun, Va. environmental groups will host an event dedicated to local streams, according to an announcement on the Loudoun Wildlife Conservancy Blog.
The event is dedicated to stream conservation, giving families the chance to explore local streams.  Hands-on programs will educate families on smart landscaping, erosion and water quality monitoring.  There will be games for kids and monitoring of stream biology.
Loudoun Watershed Watch planned the 11th annual Family Stream Day to celebrate local streams and educate families on the many facets of stream health.  The Loudoun Environmental Stewardship Alliance will co-host the event.
The event will be held at the Chapman DeMary Trail in Purcellville Va. on Saturday, October 13 from 11 a.m. to 3 p.m. Weather for the day is set to be mild and there is a low chance of rain.  Click here to see the full event announcement.
Image: Stream monitoring volunteer working with the Loudoun Wildlife Conservancy (Credit: TrailVoice, via Flickr)