Virginia report: flexibility key in responding to nor'easters and frequent flooding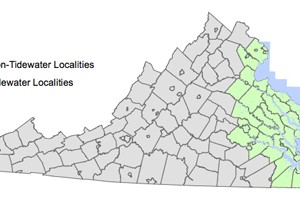 A report from the Virginia Institute of Marine Science has made recommendations on bettering the commonwealth's responses to high tides, storm surges, intense rain storms and other effects of nor'easters, according to a release.
The report was called for by a joint resolution of Virginia's House and Senate in 2012 and makes clear that no single response action can fully address the issues that contribute to the Tidewater region's vulnerability to coastal flooding. The report calls for a flexible, multi-step approach for policymakers to adapt as condition changes.
Compiling the report took a year, as its authors collected data from agencies at the local, state and federal levels. Also included in their study was analysis of strategies used in other vulnerable areas around the world.
Image: The Tidewater region of Virginia (Credit: VIMS)