Virginia researchers study zooplankton in warming Antarctic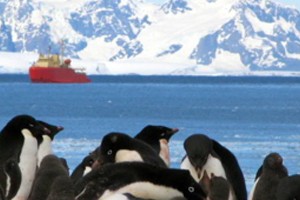 Researchers with the Virginia Institute of Marine Science are embarking on a six-week expedition to Antarctica, according to a release. While there, the group will collect samples of zooplankton to study how warmer temperatures are affecting the organisms.
As a key part of the Antarctic food web, zooplankton support the krill population that helps feed penguins, whales and other marine life near the continent. As winter temperatures in the Antarctic have increased 11 degrees fahrenheit since 1950, the team wants to see if warmer habitats have impacted zooplankton and the populations of larger animals they help to sustain.
The trip is part of the Long-Term Ecological Research Program at the U.S. Palmer Research Station on Anvers Island. It is funded through grants from the National Science Foundation.
Image: Penguins with the research vessel Laurence M. Gould in the background (Credit: VIMS)