Virtual Boat program simulates Ohio River research cruise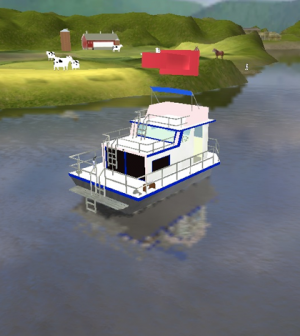 For most Ohio high school students, getting the opportunity to spend their school days navigating a boat is about as realistic as a "dog ate my homework excuse" getting them out of a missed assignment.
Even Ohio University's Boat of Knowledge program, an initiative to send students down the Ohio River on a research boat to learn about water quality, has its limits. The state's harsh winters and distance between the river and some high schools keep some students off the water.
With the help of a $45,000 state grant, some computer programmers and around 30 iPads, Ohio University is changing that.
Since 2010, Tiao J. Chang, professor of civil engineering at Ohio University, has led a research initiative that involves high school students traveling by riverboat on the Ohio River to analyze water quality. However, implementing the riverboat experience within a high school curriculum is fraught with limitations. In addition to weather and travel time, only around 30 students can fit on the boat at once.
These testing limitations prompted Chang to come up with an alternative program that had the capacity for greater involvement.
"It came to me, we can design a virtual boat that simulates what we have done in the physical boat that would have a use everywhere without conditional weather," Chang said.
Thus, the Virtual Boat for Environmental Education was born. The program is a software-based simulation of Chang's ongoing efforts to help teach Athens-area high school students about water pollution through scientific testing of the Ohio River.
Three Ohio University computer science students created the computer-based virtual boat program to simulate real-life testing in the Ohio River. They incorporated the Ohio River and its unique properties and landmarks—including actual chemical and power plants found along shore—into the interactive experience through GIS data. The virtual measurements are based on real data collected by the Ohio River Valley Water Sanitation Commission.
Working on one of the 30 iPads provided by the program or on the school's desktop computers, students will navigate their boat through the Ohio River while testing the water for temperature, dissolved oxygen, E. coli, pH, total phosphate, nitrate and turbidity to gauge the water quality and find specific sources of fish kill.
Particular sources of pollution in the simulation include acid-mine drainage from abandoned mines, storm water runoff from farms, poorly treated water from wastewater plants, heated water from power plants and various contaminants from different chemical plants.
After analyzing the water quality data, students are tested with various problem-solving questions to determine the specific causes of the pollution and the potential solutions.
Dr. Chang is optimistic that the virtual program will instill both a sense of environmental responsibility and an appreciation for scientific research in the high school students.
"We hope that the high school students will be able to learn about water quality measurements in the Ohio River, and hopefully, students will get interested about water quality close to home," Chang said. "We hope to increase the students' interest in science and engineering programs."
The Ohio EPA grant for the virtual boat program is only allocated for the rest of 2013, but Dr. Chang would like to see the program gain traction to potentially secure funding to continue in the future.
"If we do a good job, we'll probably continue to apply [for additional funding]" Chang said. "We're excited to test the virtual boat program and hopefully we'll make some progress and continue to be supported."
Image: Simulation of the virtual boat on the Ohio River (Credit: Ohio University)