Volunteers collect data on Wabash River water quality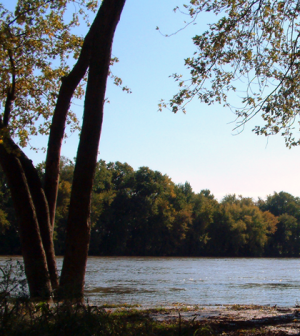 The Wabash River at Williamsport, Ind. (Credit: Huw Williams, via Wikimedia Commons)
Hundreds of volunteers helped collect data on water quality in the Wabash River on Sept. 13, according to WLFI News. Their efforts covered more than 200 tributaries and streams that lead into the river.
Volunteers collected water samples for future analysis, measured water cloudiness and tracked its temperature. Some also used test strips to measure pH and other indicators that help in judging water quality.
The Wabash River is an important water resource for Indiana, stretching across the entire state before draining into the Ohio River. Support for the sampling came from the Wabash River Enhancement Corporation.
Image: The Wabash River at Williamsport, Ind. (Credit: Huw Williams, via Wikimedia Commons)