A warmer climate could mean fewer clouds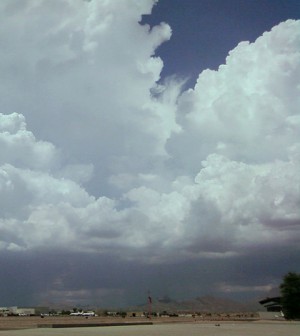 Research into cloud systems has found that the earth's climate may be more sensitive to carbon dioxide emissions than previously thought, according to The Guardian. It reveals that a warmer climate may mean fewer clouds.
Study authors from the University of New South Wales and Université Pierre et Marie Curie in Paris say that current climate models fail to take into account new water vapor that will be released into the atmosphere as carbon dioxide levels cause temperatures to rise.
The study, published in the journal Nature, takes a "real-world" look at the effects of water vapor in the atmosphere. It found that water vapor isn't distributed equally in the atmosphere, and often distributes at different heights, which could cause fewer clouds to form.
Image: Monsoon clouds in Arizona (Credit: Wikimedia Commons)