Warming Arctic research cruise underway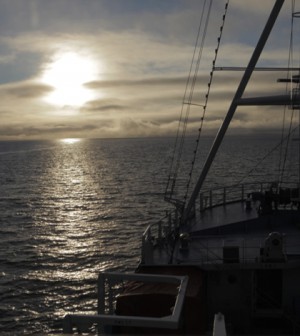 Low Arctic sun as seen from the R/V Lance (Credit: WHOI)
Researchers from the United States, Norway and Poland are on a cruise in the High Arctic to understand more about ocean circulation, according to the Warming Arctic expedition webpage.
The crew will travel onboard the Norwegian Polar Institute's research vessel Lance, which is strengthened to handle the Arctic ice. Research will be conducted in an area of the ocean so remote that there are no weather forecasts available.
During the cruise, researchers from the Woods Hole Oceanographic Institution, the Norwegian Polar Institute, Norway's Institute for Marine Research and Institute for Oceanology Polish Academy of Sciences will deploy moorings to collect data on currents.
The main focus of the cruise is the North Atlantic Current, which carries tropical water north through the Arctic.
Image: Low Arctic sun as seen from the R/V Lance (Credit: WHOI)