Water Level Sensors Show Promise Of New Haven Rain Gardens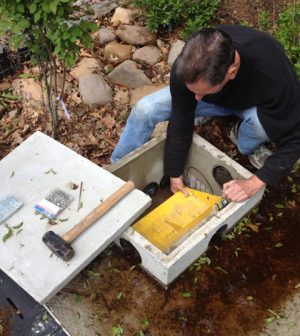 Gaboury Benoit, professor of forestry and environmental studies at Yale University, works at a V-Notch weir. (Credit: Kelsey Semrod / Yale University)
The city of New Haven, Conn. has combined sewer overflows that ferry excess water during storms into nearby waterways. While that is good for flood protection, it creates water pollution issues downstream as runoff from urban areas goes straight into waiting streams.
Like many other cities around the United States, New Haven is trying to tackle that issue to both provide ongoing and reliable protection from floods while also improving the health of waterways downstream. One option is to separate storm drains and sewer systems, which is likely to be quite expensive moving forward. Luckily, investigators at Yale University are showing that rain gardens may be able to provide the same benefits as such a separation while coming in at much lower costs.
Researchers at the university are in the second year of a project that has overseen the installation of around a dozen rain gardens throughout the city. These have been put in place near storm drains and usually contain layers of material to help slow down the flow of runoff — typically gravel, soil and mulch with plants at the top.
Using V-Notch weirs and water level sensors, investigators keep tabs on the runoff that comes through the gardens.
"We are looking to find out how effective rain gardens are in reducing flow to the combined sewer overflow or storm drains," said Gaboury Benoit, professor in the Yale School of Forestry and Environmental Studies. "That could potentially save billions of dollars if the city doesn't have to separate the pipes."
It could also save the city a lot of time, as work on the water infrastructure would undoubtedly take years as crews proceeded a few neighborhoods at a time. What's more, reductions to urban runoff making it into waterways like Mill River and the Port of New Haven could be achieved sooner.
Results so far are encouraging, Benoit says. And the project has already succeeded in helping local high school students and ex-offenders seeking jobs who, through the GreenSkills Initiative green jobs program, have gained experience building rain gardens and planting trees.
"We have a manuscript that we're completing with our results from the first year. We're still finishing that, but the results are that they're (rain gardens) are incredibly effective," said Benoit. When installed properly and appropriately placed, meaning just upstream of the catchment basin, the rain gardens can reduce flow by 80 to 90 percent. He notes that the figures can vary a lot based on the strength of the storm, but they hold up well with typical weather patterns. "I was a little surprised at how effective they were. Based on the principle alone, I thought it would work but it worked better than I'd hoped."
The city is a partner in the work and all of the project's findings will be used to help officials better manage New Haven's stormwater issues. Benoit says plans are to continue the work for as long as possible, sharing that he and other researchers have just secured funding supporting the installation of 200 more rain gardens outfitted with water level sensors throughout the city.
Funding for the work has been primarily provided through the Long Island Sound Futures Fund. It is a grant program administered by the National Fish and Wildlife Foundation in collaboration with and support from the U.S. Environmental Protection Agency, Long Island Sound Study and the U.S. Fish and Wildlife Service.
Top image: Gaboury Benoit, professor of forestry and environmental studies at Yale University, works at a V-Notch weir. (Credit: Kelsey Semrod / Yale University)