Water monitoring program expands to Ohio and Allegheny rivers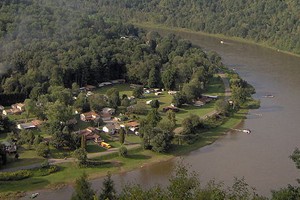 A West Virginia University water monitoring program is expanding to the upper Ohio and Allegheny rivers, according to a release from the university. The biweekly testing program will collect water samples to undergo lab analysis. Local watershed organizations will also take part by collecting field data from tributaries in the area.
The West Virginia Water Research Institute at WVU developed the Quality Useful Environmental Study Teams program – QUEST – in 2009 to respond to a concern over total dissolved solids in the Monongahela River, which runs through north-central West Virginia and southwestern Pennsylvania.
The expansion was made possible through a $700,000 grant from the Colcom Foundation, a private organization that supports conservation and environmental projects.
Image: The Allegheny River near East Brady, Pennsylvania (Credit: Nyttend, via Wikimedia Commons)