Water pulse to rejuvenate drying Colorado River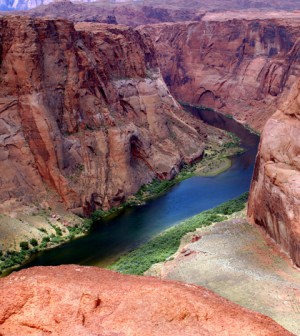 The Colorado River near Page, Arizona (Credit: Adrille, via Wikimedia Commons)
A deal between the U.S. and Mexico will pump 130 billion liters of water into the drying Colorado River, NewScientist reported.
The unprecedented hydrological project will begin on March 23. The deal, signed by seven states and two countries, will attempt to recreate the natural effects of a spring flood. The water pulse required for the project will originate from behind the Hoover, Davis and Parker dams.
An additional 64 billion liters of water will infuse the river continuously for three years following the initial pulse. The project marks the first time water has crossed the U.S.-Mexican border to rehydrate a river system.
Image: The Colorado River near Page, Arizona (Credit: Adrille, via Wikimedia Commons)