Water purification technology in spotlight for World Water Day 2012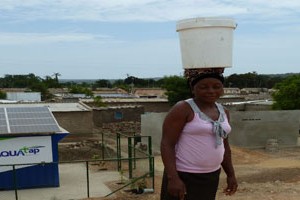 This year, March 22 marks the 19th anniversary of World Water Day, a day marked by the United Nations to advocate the need for sustainable management of freshwater resources. A Christian Science Monitor article highlights two low-cost technologies for producing clean water.
A Penn State University researcher has developed a system in which the bacteria in dirty water generate the energy necessary to clean the water so it can be used for human consumption. The reverse electrodialysis technology will eventually provide a cost-effective, energy-efficient water purifying system for households and businesses.
A Canadian company partnered with the government in Angola to harness an abundant Angolan resource: solar energy. The sun not only powers pumps that bring water to recycled drinking containers, but its UV rays help sterilize the water. The technology, known as AQUAtap, could eventually provide local production jobs to Angolans.
Read more at Christian Science Monitor.