WEFTEC coming in October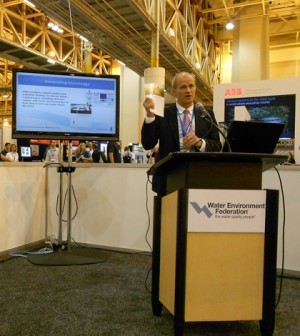 A WEFTEC presenter (Credit: worldwaterweek, via Flickr)
The Water Environment Federation's annual Exhibition and Conference, or WEFTEC, is coming up in the second week of October, according to the Water Environment Federation.
WEFTEC will be held in Chicago's McCormick Place South from Oct. 5 through Oct. 9. The opening session for the conference will feature Kevin Carroll, who will speak about achieving goals in relation to clean water.
A wide variety of discussions, technical sessions and talks by professionals in the water quality industry will follow. Talks will range from public policy matters to localized water quality operations.
Exhibitors from the industry will be showing their latest technology from Oct. 7 to Oct. 9. Notable exhibitors include YSI, Geotech Environmental Equipment and Global Water.
Image: A WEFTEC presenter (Credit: worldwaterweek, via Flickr)