West Virginia mountaintop mining linked to increased lung cancer risk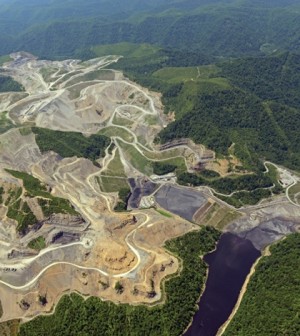 Researchers have shown that people exposed to airborne dust up to a mile away from mountaintop mining operations in West Virginia may be at heightened risk for lung cancer and lung tumors, according to a recent story in Chemical & Engineering News.
Lung cell cultures in the study were exposed to particulates gathered from mining and non-mining communities. Only the lung cell cultures from the mining communities took on cancer-like properties, readily colonizing soft agar cultures, a typical sign of cancerous behavior for lung cells. Lung cells exposed to non-mining particulates did not show colonizing behavior.
Researchers also found that, although the mining particulates did not seem to cause new tumor growth in mice, they did seem to encourage tumor growth in already tumorous mice. Researchers believe the presence of molybdenum trioxide in the mining particulates may be responsible for increased cancer risk in mountaintop mining communities.
Top image: Airborne dust from mining operations may increase risk of lung cancer. (Credit: Debbie Hill / UPI / Newscom)