Western Cameras Capture Hot Pot Wildland Fire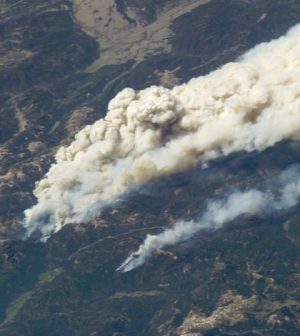 Wildfires burn in Colorado, June 19, 2013. (Credit: NASA, International Space Station)
Work to expand networks of cameras in the U.S. West continues, as land managers and researchers keep their eyes on wildfires that regularly spring up in the region. A few months ago, we covered several of the networks, including Alert Tahoe, which is a newer one that recently helped fight the Hot Pot wildland fire.
That fire exploded in northern Nevada on July 2, 2016, after a thunderstorm provided its initial spark. Within 30 hours, it burned around 120,000 acres in an area nearly 25 miles north of Battle Mountain, Nev.
The U.S. Bureau of Land Management, in partnership with the University of Nevada, Reno, funded five live-broadcast cameras on remote mountain peaks in central and northeastern Nevada last fire season using the University's private high-speed internet system that's capable of transmitting seismic, environmental and climate data. It can also support live-streaming high-definition video from the cameras.
The cameras are infrared-capable and come with pan-tilt-zoom capability, providing 360-degree panoramic views from high mountain towers. A tower-mounted camera on the 7,800-foot-elevation Midas Peak, about 40 miles north of Battle Mountain, helped monitor the fire.
In one video of the raging fire, viewers can see the massive plume of smoke rising off the mountains. In another, taken a few hours later, planes can be seen dropping retardants onto the conflagration and halting the blaze in its tracks.
Network managers say that the cameras are strategically placed to provide a landscape overview. All of the cameras are equipped with on-demand, time-lapse functions that allow playback through different time periods.
With that feature, dispatchers and duty officers can review anomalies and gather a local picture of what's happening, or what's already happened, within the field of view of a camera. And the network overall gives managers a real-time picture of what's happening from both a weather and fire-behavior standpoint.
Top image: Wildfires burn in Colorado, June 19, 2013. (Credit: NASA, International Space Station)