WHOI whale monitoring glider proven effective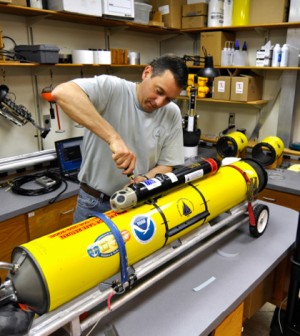 Specially equipped gliders helped scientists with whale monitoring (Credit: Nick Woods/Woods Hole Oceanographic Institution)
Trial runs of Woods Hole Oceanographic Institution's whale-listening gliders proved successful in tracking rare whales, according to Oceanus Magazine.
WHOI's team of whale researchers deployed their Slocum Gliders last fall. The gliders feature Digital Acoustic Monitoring sound recorders, which sense whale sounds.
Within hours of deployment the sensors detected North Atlantic right whales and alerted the research team. The information was then relayed to the National Oceanic and Atmospheric Administration's Fisheries Service who asked ships in the area to slow and avoid collisions with the whales.
Now that the WHOI whale sensing package is proven, it will be used to help ecologists and marine biologists research whales. The glider-mounted package will be especially helpful in tracking movements of whales rarely seen by human.
Image: Specially equipped gliders helped scientists with whale monitoring (Credit: Nick Woods/Woods Hole Oceanographic Institution)