Why Don Juan Pond doesn't freeze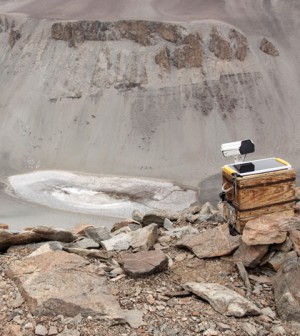 A camera installed above Don Juan Pond in Antarctica's McMurdo Dry Valleys (Credit: Geological Sciences/Brown University)
A team of researchers led by Brown University has found why Don Juan Pond — Earth's saltiest body of water — is so salty, according to a release. Resting in Antarctica, the pond contains so much salt that it doesn't freeze.
Using time lapse photography and other data, the group found that water in the surrounding atmosphere is the source of all the salt. The parched soil in McMurdo Dry Valleys takes it in and then melting snow and ice combines with it to make Don Juan so salty.
The pond is eight times saltier than the Dead Sea and scientists had long thought briney water from deep in the ground was the source. Results of the research can be found in the journal Scientific Reports.
Image: A camera installed above Don Juan Pond in Antarctica's McMurdo Dry Valleys (Credit: Geological Sciences/Brown University)