Woods Hole researchers successfully test whale-detecting robots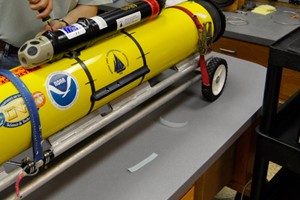 Scientists from the Woods Hole Oceanographic Institution successfully tested new autonomous underwater vehicles designed to listen for whales in the open ocean, according to a WHOI press release.
The two robots detected nine endangered baleen whales from their calls during a three week deployment in the Gulf of Maine.
Success means scientists can much more easily track and study whales, which travel to the Gulf of Maine in the fall and winter.  Human spotting by boat or plane is the only method currently used, but rough seas make this task difficult.
The AUVs are based on glider robots, which quietly ride currents traveling up and down through ocean layers.  Small microphones mounted on the underside of the robots detect whale calls thanks to specially designed software. Data transmits in real time through an Iridium modem.
Click here to see a detailed description of the study.
Image: An ocean-going glider equipped with a digital acoustic monitoring instrument (Credit Nick Woods/Woods Hole Oceanographic Institution)