Workshop teaches young oceanographers to manage research cruises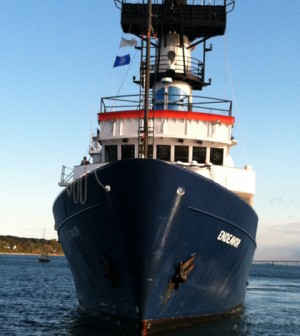 R/V Endeavor (Credit: Sara Hickox, via Flickr)
Early-career oceanographers got hands-on experience managing a research cruise as part of the National Science Foundation's Chief Scientist Training workshop, according to a release from the University of Wyoming. The training program is designed to teach young scientists how to take care of the many details involved with successful research cruises.
The program was coordinated by the University-National Oceanographic Laboratory System and took place on the research vessel Endeavor, which launched from the University of Rhode Island. The training cruise took place from Oct. 19 – 28.
Workshop organizers say there is a lot of work that goes into managing a cruise, including acquiring ship time on a research vessel, making sure the proper equipment is onboard and allocating space for scientists. They note that early training is needed because many early-career oceanographers have to act as chief scientist on their first cruise.
Image: R/V Endeavor (Credit: Sara Hickox, via Flickr)