6-Series Optical Turbidity System Rental
Logging Optical Turbidity Sonde
Features
Includes optical turbidity sensor with wiper
Internal battery pack for unattended logging
Log up to 150,000 data points internally
Fondriest Exclusives
Expedited repair and warranty service
Lifetime technical support
The YSI optical turbidity sonde is ideal for dredging, stormwater monitoring, construction sites, vertical profiling, and surface water evaluations.
(1) 600OMS V2 sonde with internal battery pack
(1) Temperature/conductivity sensor
(1) Optical turbidity sensor
(1) PC adapter
(1) Soft-sided carrying case
(1) EcoWatch software
(1) Calibration cup
(1) Probe guard
(4) AA alkaline batteries
(1) Maintenance kit
(1) Operations manual
(1) Calibration report
Questions & Answers
Can I get expedited shipping on my rental?
Fondriest has a variety of expedited shipping options provided through UPS. A customer UPS or FedEx account can also be used.
How early in advance do I need to schedule my rental?
Rental availability varies throughout the year. To ensure we have a rental available, contact a Fondriest sales member as soon as possible and we can put in your order and reserve your rental.
Does my rental come with a handheld display?
The Turbidity system rental does not come with a handheld display. The system itself can log up to 150,000 data points on its internal memory or the handheld display can be rented at an additional cost.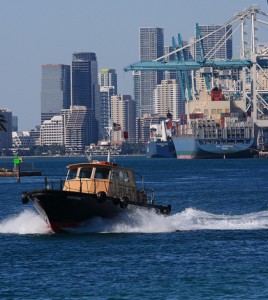 An environmental management company has been contracted to ensure the health of the Miami harbor during its expansion, according to a Dredging Today article. 
 Tetra Tech will be awarded a $20 million contract to maintain environmental oversight over the harbor expansion. Great Lakes Dredge and Dock Company will perform the dredging and provide construction oversight for the project. 
 Scientists from Tetra Tech will monitor water quality parameters, relocate coral and sea grass and construct artificial reefs. 
 Miami officials and the U.S. Army Corps of Engineers decided to deepen PortMiami to account for the expansion of the Panama Canal. The projected starts this August and should be complete by the scheduled 2015 reopening of the expanded Panama Canal.
Read More