6920 V2 Water Quality Sonde Rental
Multi-Parameter Water Quality Sonde
Features
Measure 9 parameters with optical DO
Internal battery pack for unattended logging
Log up to 150,000 data points internally
Usually ships in 3-5 days
Image
Part#
Product Description
Price
Stock
Order
6920V2-D
Rental of YSI 6920 V2 water quality sonde with temp/cond, pH/ORP, optical DO & turbidity sensors, priced per day

Usually ships in 3-5 days

6920V2-2D
Rental of YSI 6920 V2 water quality sonde with temp/cond, pH/ORP, optical DO & turbidity sensors, priced per 2-day period

Usually ships in 3-5 days

6920V2-W
Rental of YSI 6920 V2 water quality sonde with temp/cond, pH/ORP, optical DO & turbidity sensors, priced per week

Usually ships in 3-5 days

6920V2-2W
Rental of YSI 6920 V2 water quality sonde with temp/cond, pH/ORP, optical DO & turbidity sensors, priced per 2-week period

Usually ships in 3-5 days

6920V2-M
Rental of YSI 6920 V2 water quality sonde with temp/cond, pH/ORP, optical DO & turbidity sensors, priced per month

Usually ships in 3-5 days
6920V2-D
Rental of YSI 6920 V2 water quality sonde with temp/cond, pH/ORP, optical DO & turbidity sensors, priced per day
Usually ships in 3-5 days
6920V2-2D
Rental of YSI 6920 V2 water quality sonde with temp/cond, pH/ORP, optical DO & turbidity sensors, priced per 2-day period
Usually ships in 3-5 days
6920V2-W
Rental of YSI 6920 V2 water quality sonde with temp/cond, pH/ORP, optical DO & turbidity sensors, priced per week
Usually ships in 3-5 days
6920V2-2W
Rental of YSI 6920 V2 water quality sonde with temp/cond, pH/ORP, optical DO & turbidity sensors, priced per 2-week period
Usually ships in 3-5 days
6920V2-M
Rental of YSI 6920 V2 water quality sonde with temp/cond, pH/ORP, optical DO & turbidity sensors, priced per month
Usually ships in 3-5 days
Image
Part#
Product Description
Price
Stock
Order
650-03-D
Rental of YSI 650MDS display with barometer & 25 ft. cable, priced per day

Usually ships in 3-5 days

KENAI-D
Rental of Trimble Kenai rugged Windows 10 tablet computer, priced per day

Usually ships in 3-5 days
Simultaneously measure and log temperature, conductivity, salinity, TDS, resistivity, dissolved oxygen (optical), pH, ORP, and turbidity.
(1) 6920 sonde
(1) Temperature/conductivity sensor
(1) ROX optical dissolved oxygen sensor
(1) pH/ORP sensor
(1) Optical turbidity sensor
(1) PC adapter
(1) Soft-sided carrying case
(1) EcoWatch software
(1) Calibration cup
(1) Probe guard
(1) Flow cell
(8) AA alkaline batteries
(1) Membrane kit
(1) Maintenance kit
(1) Operations manual
(1) Calibration report
Questions & Answers
My rental was shipped UPS, can I ship it back FedEx?
Rentals can be shipped FedEx or UPS.
Can I use EcoWatch with my Windows 7 Software?
EcoWatch is compatible with 32-bit Windows 7 computers. If you have a 64-bit Windows 7 computer, you will need to use EcoWatch Lite. This can be downloaded at no charge from www.ysi.com
Is EcoWatch compatible with my Macbook?
No, EcoWatch software is only compatible with Windows.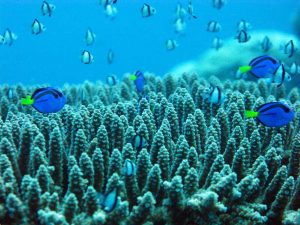 It's an open, dirty secret that the ocean is used as the ultimate sewage solution. 
 
 Each year trillions of gallons of untreated waste are sent to the ocean due to a widespread lack of sanitation technology or infrastructure that needs updating as cities and populations grow. As the impact of untreated sewage on the ocean becomes clearer, attention to the problem and strategies for dealing with it have not kept up. 
 
 "This is a massive problem and it's been largely ignored," said Stephanie Wear, senior scientist and strategy advisor for The Nature Conservancy. Wear has turned her attention to raising the alarm about the effects of sewage on coral reefs, which often loses airtime to other pressing issues like climate change and overfishing.
Read More