ATI Q46P/R pH/ORP Monitor
ATI's versatile Q46P/R pH/ORP monitors feature rugged differential-style sensors designed for use in industrial and municipal applications.
Features
Optional Auto-Cleaner removes build-up on the sensor, reducing sensor maintenance
Contact outputs include two programmable control relays for control and alarm modes
Communication Options for Profibus-DP, Modbus-RTU, or Ethernet-IP
Drop ships from manufacturer
| Image | Part# | Product Description | Price | Stock | Order |
| --- | --- | --- | --- | --- | --- |
| | Q46P/R | pH/ORP monitor | | Drop ships from manufacturer | |
Q46P/R
pH/ORP monitor
Drop ships from manufacturer
Measurement and control of pH is important in a wide variety of industries. Water and wastewater, boiler feed water, high purity water, food processing wash water, chemical plant cooling water, and many other aqueous systems require reliable pH monitoring.

ATI's Model Q46P pH monitor provides the combination of durability, accuracy, and versatility required for virtually any pH monitoring or control application. The Model Q46R provides the same reliable monitoring for Oxidation-Reduction Potential (ORP) applications.

ATI's Q46 platform represents our latest generation of monitoring and control systems. Control features have been expanded to include an optional 3rd analog output or an additional bank of low power relays. Digital communication options now include Profibus IP, Modbus RTU, or Ethernet IP variations.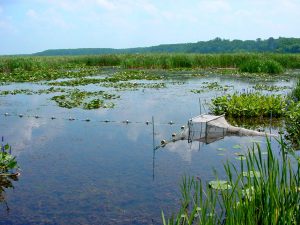 The public knows much more about Great Lakes coastal wetlands than it did ten years ago. 
 
 In those ten years, the information gathered through the Great Lakes Coastal Wetlands Monitoring Program has led to and supported dozens of advances in Great Lakes science while helping nail down the shifting nature of ecosystem health for a vital part of the Great Lakes system. 
 
 "I probably get one or two requests for information a week," Don Uzarski, director of the program, told Environmental Monitor. 
 
 The program's most recent semi-annual report lists 40 scientific publications using the collected data. In addition, the data has been used in even more restoration projects, graduate theses and presentations.
Read More