ATI Q46/84 Hydrogen Peroxide Monitor
The ATI Model Q46/84 Hydrogen Peroxide Monitor is designed to continuously monitor processes that utilize hydrogen peroxide for bleaching or disinfection purposes.
Features
Available with constant head or sealed flowcell configuration
Contact outputs include two programmable control relays for control and alarm modes
Communication Options for Profibus-DP, Modbus-RTU, or Ethernet-IP
Stock
Drop Ships From

Manufacturer
Fondriest Exclusives
Expedited repair and warranty service
Lifetime technical support
Hydrogen peroxide (H2O2) is an extremely strong oxidizer widely used in bleaching applications in the paper industry. It has also been used in a variety of applications including disinfection, odor control, oxygenation, and cyanide oxidation. It is frequently used in wastewater collection systems to remove hydrogen sulfide that destroys concrete pipes and manhole structures. Peroxide applications in aqueous systems, like most chemical treatment processes, function most efficiently with accurate measurement and control.

ATI's Model Q46/84 Hydrogen Peroxide Monitor is designed to continuously measure the concentration of H2O2 in aqueous systems. Using a direct peroxide sensor, the unit responds rapidly to changes in concentration, enabling operators to control chemical feed to maintain specific targets. With both digital and analog communications available, the Q46 is adaptable to a wide variety of peroxide monitoring applications.

Hydrogen Peroxide sensors are amperometric devices isolated from the water by a peroxide permeable membrane. As peroxide diffuses through this membrane, it comes in contact with an active electrode and is oxidized on the surface. The net effect is that the sensor generates a current proportional to H2O2 concentration. An integral RTD in the sensor provides for automatic temperature compensation, allowing the sensor to operate accurately over a range of 0-50°C.

Peroxide sensors are capable of operating over a fairly broad concentration range, from a low range of 0-2 PPM up to a high range of 0-200 PPM. Systems will operate with good sensitivity down to 0.05 PPM and respond to changes in concentration within about 60 seconds, making them useful for automatic control.

Hydrogen Peroxide sensors require a steady flow of sample across the membrane at the tip of the sensing assembly. ATI offers options for flowcells, including the standard constant-head overflow system, and a sealed flowcell for pressures up to 50 PSI. For simplicity of installation, complete flow control assemblies are available. Panel assemblies are available with or without a flow switch and can greatly reduce installation time.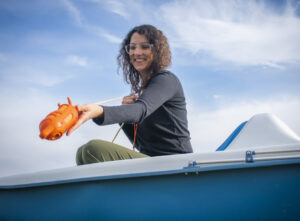 The Sontek CastAway-CTD is a castable device that measures conductivity, temperature and depth. The instrument has been used in the field for over a decade by oceanographers, limnologists, divers, fishers and educators. There have been few changes since the first iteration in 2010, showing that the instrument is durable and accurate without requiring new models. 
 
 The CastAway is the first conductivity, temperature and depth (CTD) instrument of its kind. While other CTDs are large and cumbersome to deploy, with cages and isolated sensors, the CastAway is a small, lightweight and easy-to-use instrument. Typical CTDs utilize pumps to ensure water flows over the sensors during deployment.
Read More