ATI Q46H/65 Chlorine Dioxide Monitor
ATI's Model Q46H/65 Chlorine Dioxide Monitor is designed for on-line monitoring and control of industrial disinfection systems.
Features
Optional pH sensor can be used to allow the monitor to display both chlorine dioxide and pH
Contact outputs include two programmable control relays for control and alarm modes
Communication Options for Profibus-DP, Modbus-RTU, or Ethernet-IP
Drop ships from manufacturer
| Image | Part# | Product Description | Price | Stock | Order |
| --- | --- | --- | --- | --- | --- |
| | Q46H/65 | Chlorine dioxide monitor | | Drop ships from manufacturer | |
Chlorine Dioxide is a powerful oxidizing agent used for disinfection of potable water, cooling towers, and food wash water. It is also widely used for the bleaching of pulp in paper mills. As a disinfectant, CIO2 has advantages over chlorine in that it does not react with ammonia and many organic compounds while proving more effective at controlling bacteria, spores, viruses, and cysts. It is particularly well suited for removing biofilms from the inside of piping systems.

ATI's Model Q46H/65 Chlorine Dioxide Monitor provides an economical and reliable measurement system for monitoring and controlling ClO2 treatment systems. With a variety of outputs including 4-20 mA analog, PID control, three adjustable relays, and digital communications, the Q46H/65 is adaptable to any ClO2 application.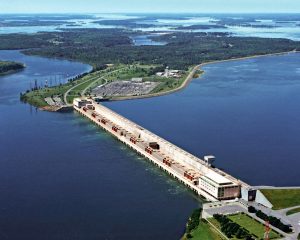 Where and how to monitor water quality is always a challenge, particularly in complex aquatic ecosystems. The new REASON Project from a team at Clarkson University is working to demonstrate the utility of using water quality instrumentation in dams on major rivers in the Great Lakes system. 
 
 Clarkson University Professor of Biology Michael Twiss spoke with EM about the new approach their team is taking at the Moses-Saunders Power Dam across the St. Lawrence River and the benefits the development of smart infrastructure such as this might offer. 
 
 "The upper St. Lawrence River is defined as that which leaves Lake Ontario and is just upstream from the city of Montreal," explains Dr. Twiss.
Read More