Davis Rudder Position Indicator
The Davis Rudder Position Indicator gives instant visual reference of rudder angle.
Features
Pointer swings a full thirty degrees with each revolution of the wheel
Mounts directly to a hub with a self-adhesive pad
Rugged, hermetically sealed, weatherproof, and sunproof housing ensures long life
Image
Part#
Product Description
Price
Stock
Order
385
Rudder position indicator

In Stock
Awareness of the rudder angle is an important safety factor. This is especially true while moving in and out of your berth, drawing alongside another boat, picking up a skier, mooring, or any other "close call" situation.

No cables, adjustments, or electricity required; gravity power makes it simple and service-free. Suitable for boats with mechanical and single station hydraulic steering systems.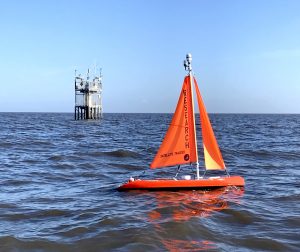 Time is of the essence when it comes to tracking algal blooms, and people everywhere are looking for solutions. In Florida, scientists from Florida Atlantic University Harbor Branch Oceanographic Institute (HBOI) recently trialed a solar-powered, algae-tracking sail boat developed by Navocean , Inc. Dr. Jordon Beckler of Florida Atlantic University (FAU) directs HBOI's Geochemistry and Geochemical Sensing Lab and spoke to EM about the trials and the boat. 
 
 "This boat is so amazing when you see it in action," remarks Dr. Beckler. "Navocean originally contacted me a few years back about a demonstration when I was over at my previous institution in West Florida, and we brainstormed some scenarios for employing the boat for harmful algae bloom monitoring.
Read More