Davis Spar-Fly Wind Indicator
The Davis Spar-Fly Wind Indicator mounts on any masthead to know wind direction making it easier to dock a boat.
Features
Easily seen from deck because of V-shaped silhouette and bright red color
Spoiler holes in the vane reduce lift and increase accuracy
Unaffected by angle of heel
Image
Part#
Product Description
Price
Stock
Order
1310
Spar-fly wind indicator

In Stock
Spar-Fly combines needle bearing balance, high impact plastic, and marine grade metals for unsurpassed sensitivity and durability. Weighs only 1.25 oz. (35 g).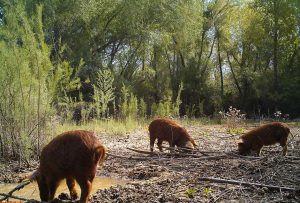 When pigs get out of their pens, they can really tear up a landscape. Five million pigs in 39 states can tear up a lot of landscape. 
 
 "They're one of the top 100 invasive species in the world. Anywhere wild pigs are not natural and they show up, they do a lot of damage to other species," said Dwayne Etter, a research specialist with Michigan's Department of Natural Resources and a part of a research team that tested a new feral swine monitoring technique that uses environmental DNA. 
 
 Environmental DNA (eDNA) is genetic material organisms lose in the environment. If a pig crosses a creek or defecates in it, a researcher, in theory, should be able to pull that DNA out of the water further downstream.
Read More