Davis Weather Station Mounting Tripod
The Davis weather station mounting tripod simplifies installation of weather sensors for portable or semi-permanent applications.
Features
Galvanized steel construction
Includes (2) 3 ft poles for use separately or together
Combined pole height creates (1) 5.8 ft pole
Image
Part#
Product Description
Price
Stock
Order
7716
Weather station mounting tripod

In Stock
Brackets at the base of each leg tilt to mount on a roof or uneven terrain. Made of galvanized steel. Includes (2) 3 ft poles, which may be used separately or together to make a single 5.8 ft pole.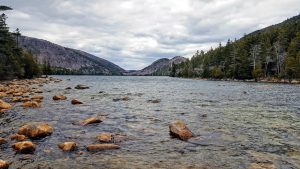 Formed by a glacier, Jordan Pond is among Maine's clearest, most beautiful bodies of water. It's also a critical freshwater resource, and watchful eyes are protecting it. 
 
 EM spoke with Dr. Rachel Fowler, Friends of Acadia's aquatic scientist, about her work monitoring Jordan Pond. A postdoctoral research scientist at the University of Maine, she is a member of a partnership among the National Park Service, the University of Maine Climate Change Institute, and Friends of Acadia that began deploying the Jordan Pond buoy in 2013. Canon provided the initial support for the project. 
 
 Friends of Acadia is a nonprofit organization that supports different projects in the park.
Read More