Extech ExStik Refillable pH Meter
The Extech ExStik Refillable pH Meter is easily serviced to maintain high accuracy readings and eliminates a limited shelf life.
Features
Automatic temperature compensation
Simultaneous display of pH and temperature
Display indicates when the reading is stabilized
Fondriest Exclusives
Expedited repair and warranty service
Lifetime technical support
The Extech ExStick Refillable pH Meter features flat surface refillable pH electrode that is easily serviced. The fresh reference solution maintains high accuracy and eliminates concern for shelf life. The electrode measures pH in liquids, semi-solids, and solids. The CAL alert lets users know when it's time to calibrate, and the RENEW function for when it's time to replace the electrode. The memory records and recalls 15 sequentially tagged readings which allows detection of changes over time. The analog bargraph is displayed on the LCD to show trends in acidity or alkalinity. The meter takes 1, 2, or 3 point calibration that automatically recognizes buffer solutions. Additional meter options include data hold, automatic power off, and low battery indication. The waterproof design floats in water and protects the meter in wet environments. The meter also adjusts using the automatic temperature compensastion.
pH range: 0 to 14pH
pH resolution: 0.01pH
pH Accuracy: ±0.01pH
Temperature range: 23 to 194°F (-5 to 90°C)
Temperature resolution: 0.1°
Temperature accuracy: ±1.8°F/±1°C
Measurement storage: 15 tagged (numbered) readings
Operating conditions: 32 to 122 F (0 to 50 C) /< 80% RH
Display: multifunction LCD with bargraph
Dimensions: 1.4 x 6.8 x 1.6" (35.6 x 172.7 x 40.6mm)
Weight: 3.8oz (110g)
Warranty: 1 year (meter), 6 month conditional (electrode)
(1) ExStick meter
(1) Flat surface refillable pH electrode
(1) 1.5mL bottle KCI
(2) Reference junctions
(2) Removal tools
(1) Protective sensor cap
(1) Sample cup with cap
(4) 3V CR2032 button batteries
(1) 48" (1.2m) neckstrap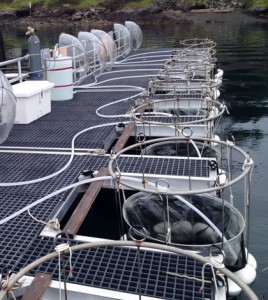 With oceans becoming more acidic worldwide, scientists are getting creative in designing experiments to study them. For example, one group at the University of Washington is using giant plastic bags to study ocean acidification. 
 Each bag holds about 3,000 liters of seawater and sits in a cylinder-like cage for stability. The group at UW, made up of professors and students, is controlling carbon dioxide levels in the bags over a nearly three-week period, during which they are looking at the effects of increased acidity on organisms living near the San Juan Islands. 
 "These mesocosms are a way to do a traditional experiment you might do in a lab or classroom," said Jim Murray, professor of oceanography at the University of Washington.
Read More