FishSens SondeCAM mini Underwater Camera
The SondeCAM mini is a compact downward-facing fishing camera for viewing live underwater video directly from a supported fishfinder or display with video inputs.
Features
Low-light camera performs in wide range of environments
Connects to wide range of fishfinders and chartplotters that support video input
Protected by a durable anodized aluminum body and scratch-resistant lens
Image
Part#
Product Description
Price
Stock
Order
SC1001
SondeCAM mini underwater camera, 25 ft. cable

In Stock
SC1001
SondeCAM mini underwater camera, 25 ft. cable
Image
Part#
Product Description
Price
Stock
Order
SC0040-25
SondeCAM extension cable, 25 ft.

In Stock

SC0040-50
SondeCAM extension cable, 50 ft.

In Stock

SC0013
SondeCAM panel mount kit

In Stock

SC0001
SondeCAM digital video recorder (DVR)

In Stock

SC0088
SondeCAM cable organizer

In Stock
The SondeCAM mini is a compact underwater camera ideal for professional anglers, fishery managers and researchers looking to identify fish habitat and profile submerged structures. SondeCAM mini is smaller and lighter than other SondeCAM models, allowing it to easily be towed behind a boat or maneuvered with a pole attachment. The camera features an ultra-compact low-Lux image sensor for clear color visuals at a resolution of 520 TV lines.

SondeCAM can operate in marine or freshwater environments at depths up to 300 feet. An anodized aluminum body with hydrodynamic contours protects the camera from rusting and saltwater corrosion. The power and signal cable is based on a high-flex design with abrasion-resistant polyurethane jacket. Heavy-duty plastic caps on the front and rear of the SondeCAM withstand impacts, and a scratch-resistant lens ensures continued performance even after rough deployments.

The low-light camera performs well in a range of aquatic conditions and is powered directly from a boat's 12VDC power source using the included adapter cable. SondeCAM models are compatible with a long list of fishfinders and chartplotters, making it a convenient and economical way to view underwater video. Compatible fishfinders/chartplotters include Lowrance, Raymarine, and Garmin models with video input via RCA or BNC connector.
Weight: 2.0 lbs with cable
Cable Length: 25 ft. included, 25 ft., 50 ft., 100 ft. extension cables available
Buoyancy: Sinks without additional weights
Material: Marine anodized aluminum, acetal, stainless steel hardware
Camera: Single Chip 1/3" CMOS
Resolution: >500 TV Line
Noise Reduction: 2D + 3D - NR
Shutter: 1/50 to 1/100000 s
Minimum Color Illumination: 0.1 lux
Minimum B/W Illumination: 0.0008 lux
Video Output: NTSC/PAL
Voltage: 12VDC +/- 10%
Power: 2.0 Watts
Depth: 300 ft.
(1) SondeCAM Mini with 25 ft. cable
(1) RCA cable
(1) BNC video adapter
(1) Power cable with bare leads
Note: Manufacturer-specific video adapter may still be required depending on model
Questions & Answers
Do the FishSens underwater cameras work with Lowrance Gen 2 non touch models?
The non-touch Gen 2 models do not support an external video input. As a result, they are not compatible with the FishSens underwater cameras.
Can a SondeCAM be connected to a standard TV display?
Yes, the SondCAM family can be connected to any video display with an available RCA or BNC port.
Do the SondeCAM mini and the SondeCAM use the same power adapter?
Yes, the adapters are the same for the Mini SondeCAM and the SondeCAM.
What is the difference between the SondeCAM mini and the SondeCAM?
The SondeCAM mini features a slightly smaller body and is a downward facing camera, while the SondeCAM is a side-facing camera.
Does the SondeCAM mini record?
The SondeCAM mini does not have recording capabilities.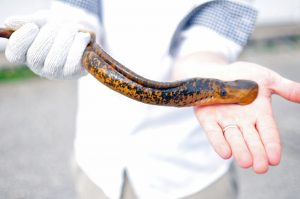 The sea lamprey's days in the Great Lakes could be numbered. 
 
 That's according to one researcher who took one of the first scientific looks at the possibility of sea lamprey eradication in the Great Lakes. 
 
 So, can you remove enough sea lamprey to make them disappear? 
 
 "Well the answer is we already have," said Michael Jones, emeritus professor of fisheries and wildlife at Michigan State University. "Then there's the obvious question: Why are they still here?" 
 
 While multiple gaps in current management techniques, like sea lamprey poisons called lampricides, could account for sea lamprey's persistence in the Great Lakes, new technology could help sea lamprey managers eliminate inaccessible populations.
Read More