FishSens SondeCAM Underwater Camera
The SondeCAM is a powerful and versatile underwater fishing camera for viewing live underwater video directly from a supported fishfinder or display with video inputs.
Features
Low-light camera performs in wide range of environments
Connects to wide range of fishfinders and chartplotters that support video input
Protected by a durable anodized aluminum body and scratch-resistant lens
Image
Part#
Product Description
Price
Stock
Order
SC2001
SondeCAM underwater camera, 50 ft. cable

In Stock
Image
Part#
Product Description
Price
Stock
Order
SC0040-25
SondeCAM extension cable, 25 ft.

In Stock

SC0040-50
SondeCAM extension cable, 50 ft.

In Stock

SC0020
SondeCAM sinking weight kit, 8 oz.

Usually ships in 1-2 weeks

SC0012
SondeCAM flashlight kit

Usually ships in 1-2 weeks

SC0011
SondeCAM telescoping pole mount kit, 63"-108"

In Stock

SC0014
SondeCAM topside rail mount kit

In Stock

SC0010
SondeCAM boatside rail mount kit

In Stock

SC0015
SondeCAM trolling motor mount kit

In Stock

SC0013
SondeCAM panel mount kit

In Stock

SC0001
SondeCAM digital video recorder (DVR)

In Stock

SC0088
SondeCAM cable organizer

In Stock
The SondeCAM is a powerful underwater camera ideal for professional anglers, fishery managers and researchers looking to identify fish habitat and profile submerged structures. The camera features the latest low-Lux image sensor for clear color visuals at a resolution of 800 TV lines. Optional accessories include extension cables, DVR, flashlight kit, sinking weights, and a variety of pole and rail mounts.

SondeCAM can operate in marine or freshwater environments at depths up to 300 feet. An anodized aluminum body with hydrodynamic contours protects the camera from rusting and saltwater corrosion. The power and signal cable is based on a high-flex design with abrasion-resistant polyurethane jacket. Heavy-duty plastic caps on the front and rear of the SondeCAM withstand impacts, and a scratch-resistant lens ensures continued performance even after rough deployments.

The low-light camera performs well in a range of aquatic conditions and is powered directly from a boat's 12VDC power source using the included adapter cable. SondeCAM models are compatible with a long list of fishfinders and chartplotters, making it a convenient and economical way to view underwater video. Compatible fishfinders/chartplotters include Lowrance, Raymarine, and Garmin models with video input via RCA or BNC connector.
Weight: 2.2 lbs with cable
Cable Length: 50 ft. included, 25 ft., 50 ft., 100 ft. extension cables available
Buoyancy: Sinks without additional weights
Material: Marine anodized aluminum, acetal, stainless steel hardware
Camera: 1/3" CCD Sony Effio-V CXD4141GG DSP
Resolution: >700 TV Line
Noise Reduction: 2D + 3D - NR
Shutter: 1/10000 s
Minimum Color Illumination: 0.1 lux
Minimum B/W Illumination: 0.001 lux
Video Output: NTSC/PAL
Voltage: 12VDC +/- 10%
Power: 2.0 Watts
Depth: 300 ft.
(1) SondeCAM with 50 ft. cable
(1) RCA cable
(1) BNC video adapter
(1) Power cable with bare leads
Note: Manufacturer-specific video adapter may still be required depending on model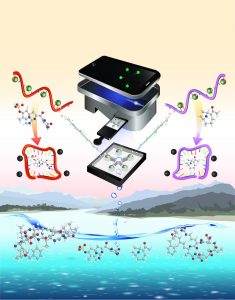 In the battle against harmful algal blooms (HABs), time is important . The need for laboratory equipment and testing is a serious challenge for water managers. This issue caught the eye of Qingshan Wei , an assistant professor of chemical and biomolecular engineering at North Carolina State University . 
 
 "Our research group is interested in developing low-cost sensors," Wei told EM . "Recently we have been developing sensors for environmental monitoring, and cyanotoxins came to our attention ." 
 
 Cyanobacteria, which generate HABs, are becoming a challenge across the US . They are a very serious problem in North Carolina, in part due to the weather.
Read More